New York criminal law has a large number of crimes related to illegal gambling on the books.  Beginning January 8, 2022,  the New York gaming commission gave their approval to four operators to start taking online bets from anywhere in the State including from a person's own living room a bar or from the street.  New York appears to be at least the 18th State to approve some form of online sports betting which has become increasingly popular in the last few years.  New Jersey, Pennsylvania and Connecticut already allow  online sports betting.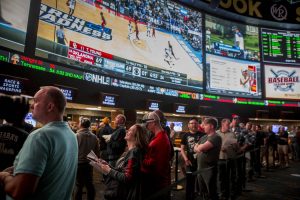 Last April, then Governor Cuomo authorized the New York State Gaming commission to start approving online gaming licenses as part of the State budget in an attempt to get such much needed extra revenue after the COVID lockdowns.  New York is taxing gross revenues made by online betting operators at a whopping 51% which is significantly higher than other States and is likely to generate significant revenue for New York.
The way was paved for online sports betting in New York in 2018 when the United States Supreme Court struck down a Federal ban on sports betting.  In 2019, New York allowed its brick and mortar casinos to start taking sports bets.  The problem is that the New York State Constitution bans gambling.  This means that even the Governor could not pass a law that allows online sports betting.  However, the Constitutional ban has several exceptions including the State Lottery, Horse Racing and up to 7 private casinos.  No exception is made for online gambling.  However, the State found a work around.  They will be storing the servers for the online sports betting at one of the 7 private casinos that is already authorized to operate in New York.