Vaccine cards have become commonplace in New York, throughout the US and indeed the world.  Like everything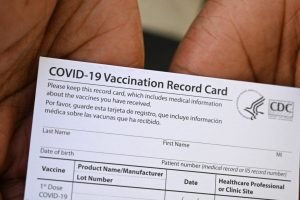 else of value, there has been a black market in fake vaccine cards that has evolved and has taken hold as the vaccine becomes mandatory in so many places.  To make matters worse, as the vaccine initially rolled out, there was an emphasis in getting as many people shots in the arms as possible and not necessarily an emphasis placed on how people could prove that they were vaccinated.  The result, was flimsy, hand written vaccine cards written often sloppily by whoever gave the injection without any nationwide standards for the type of vaccine cards.  To make matters worse many people crossed state lines to try to get the vaccine faster.  Among all of the chaos and the black market in fake cards the question remains, is it illegal to use a fake vaccine card?
In late August a New Jersey woman was arrested and charged in New York City with selling fake vaccine cards for $250 each.  The woman, who  used the name AntiVaxMomma on social media was charged with multiple felonies including Criminal Possession of a Forged Instrument in the Second Degree.  For an extra $250 an accomplice who worked at a medical facility entered peoples names into the New York State Database.  While the pair has been arrested neither has been indicted and neither has been convicted of any crime.  Both are presumed innocent.
Criminal Possession of a Forged Instrument requires that the prosecution can prove that a person knew that the card was forged and possessed the card with the intent to deceive, defraud or injure someone.  New York, specifically rejects an approach that is used in many other states that the unexplained possession of a forged instrument creates a rebuttable presumption of knowledge that it is forged.  Therefore, the prosecution would need to be able to prove, beyond a reasonable doubt, that the person was aware that the instrument was forged.   In addition, to be charged in the Second Degree, which is a felony, it must be a certain type of forged instrument such as a prescription, a deed or will, a public record or a document required to be filed with the government, a government issued identification or government issued document, subway tokens or transfers, or currency.